The insistence of tech executives to claim that providing services to governmental law enforcement agencies is a benign act, along with the lack of public outcry harkens back to one of the worst episodes of technology and repression: IBM's infamous work to assist the Nazi genocide.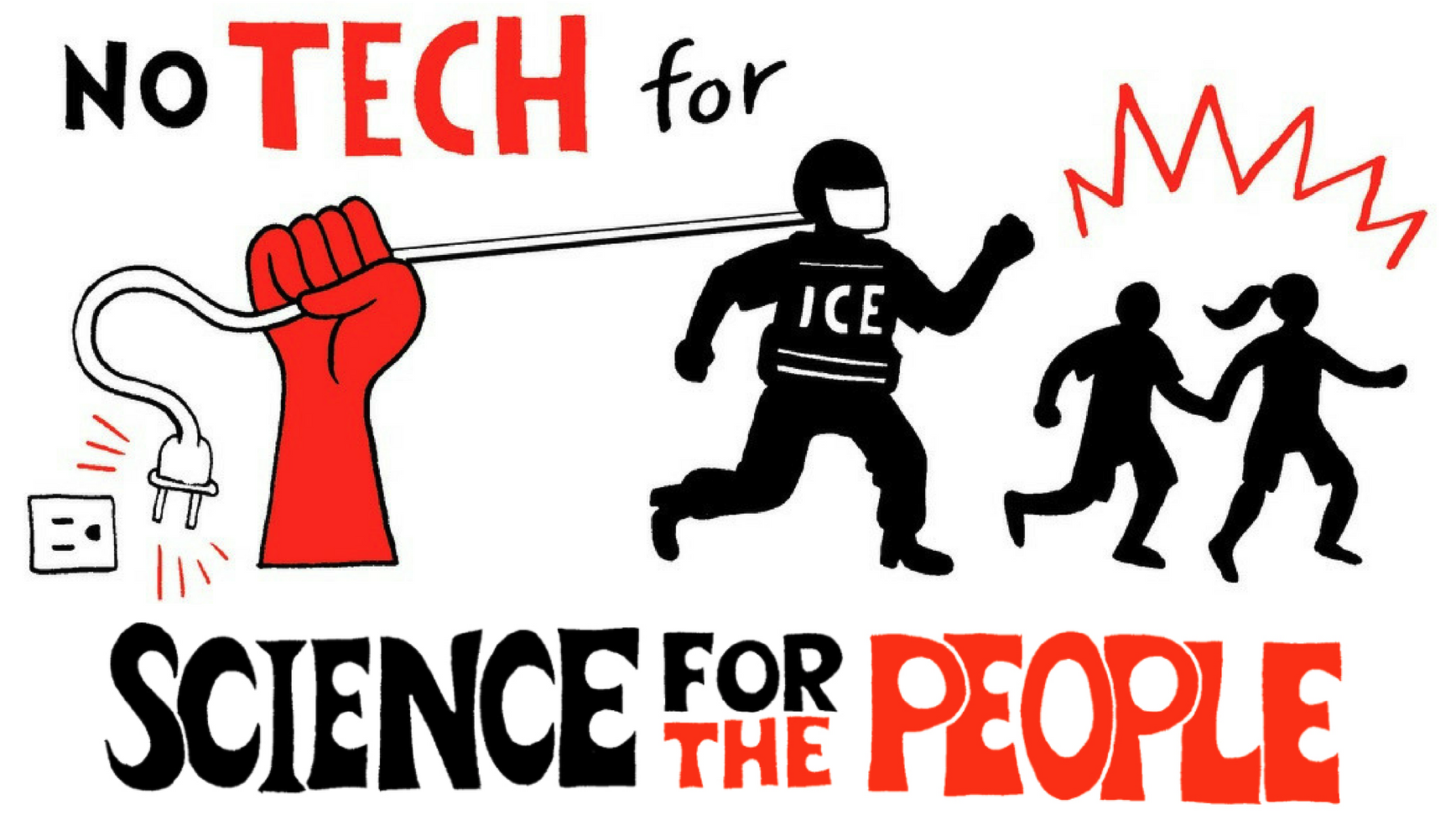 Amid the Trump administration's xenophobic immigration policies, activists with Science for the People (SftP) NYC launched a campaign to:
Call attention to the deployment of scientific research to expand militarism at the border
Exert pressure on the tech industry's complicity with governmental agencies that violate human rights
Amplify the efforts of tech workers who have demanded accountability from their employers for providing services and technology to agencies that harm marginalized groups
---

Microsoft: Cancel The Contract – Picket & Leafleting
In the summer of 2018, after thousands of Amazon and Google workers protested their company's complicity with immigration, law enforcement, and the military – employees at Microsoft began to mobilize by circulating an internal letter to their CEO, Satya Nadella, stating:
"As the people who build the technologies that Microsoft profits from, we refuse to be complicit. We are part of a growing movement, comprised of many across the industry who recognize the grave responsibility that those creating powerful technology have to ensure what they build is used for good, and not for harm."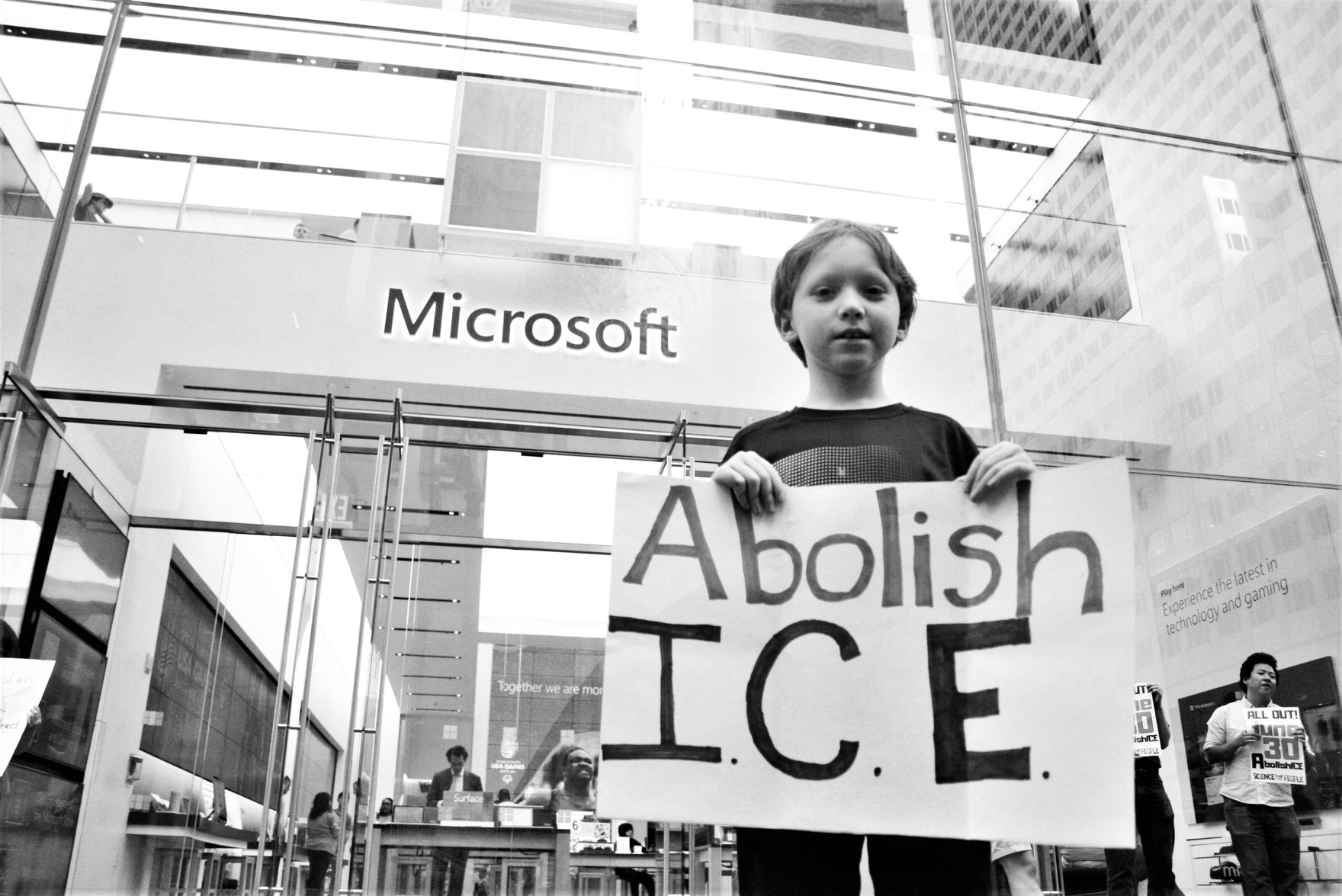 On June 25th, 2018 activists with NYC's SftP chapter seized this unique moment to bolster the growing movement of workers in the tech industry by staging a picket outside of Microsoft's Flagship store during midtown rush-hour to bring their message to the streets of NYC.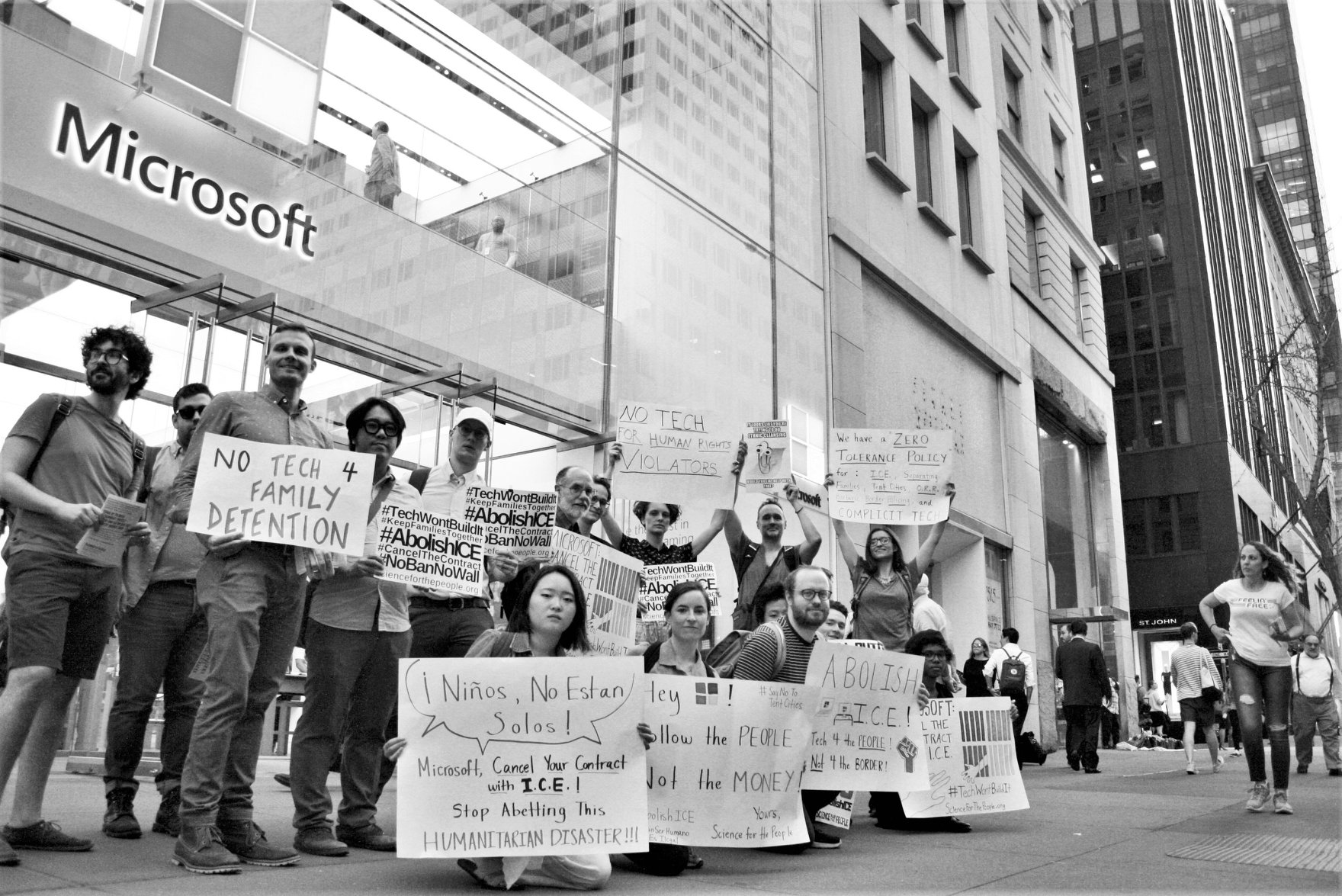 This initial action sparked a wave of solidarity pickets and public outreach efforts by SftP chapters in Atlanta and Boston, while activists in NYC continued to brainstorm ways to raise public awareness and exert external pressure on Microsoft as their workers declared #TechWon'tBuildIt.
Click here to read the letter generated by Microsoft workers as publish by the New York Times in this report and show support for their efforts by signing this open letter developed in solidarity.
---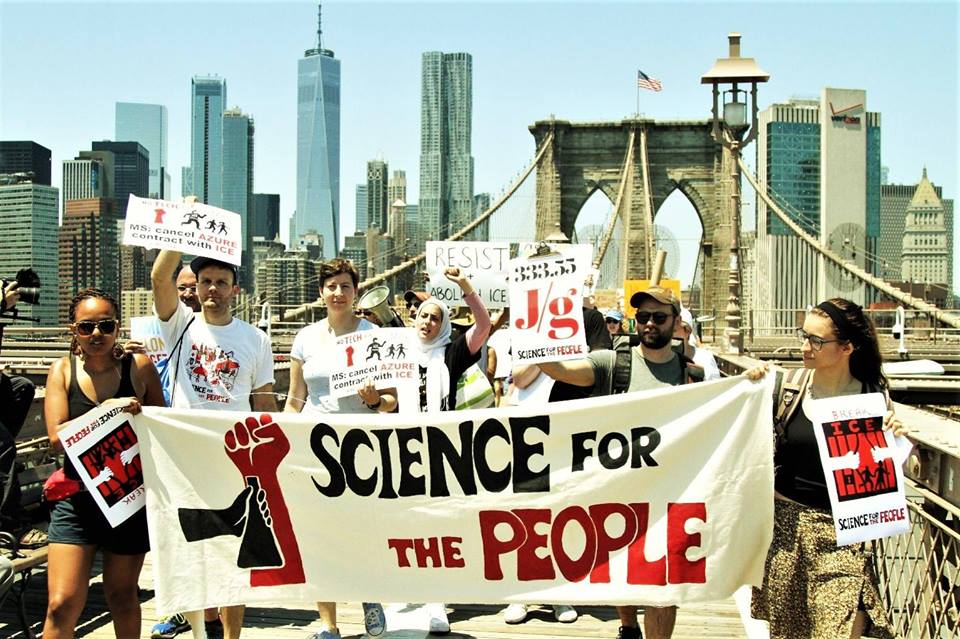 Families Belong Together – March & Rally
On June 30th, 2018, thousands of protesters flooded the streets of downtown Manhattan at Foley Square and marched across the Brooklyn Bridge as part of a national day of action in response to the egregious separation of families at U.S. borders as per the Trump administration's "zero-tolerance" policy on immigration.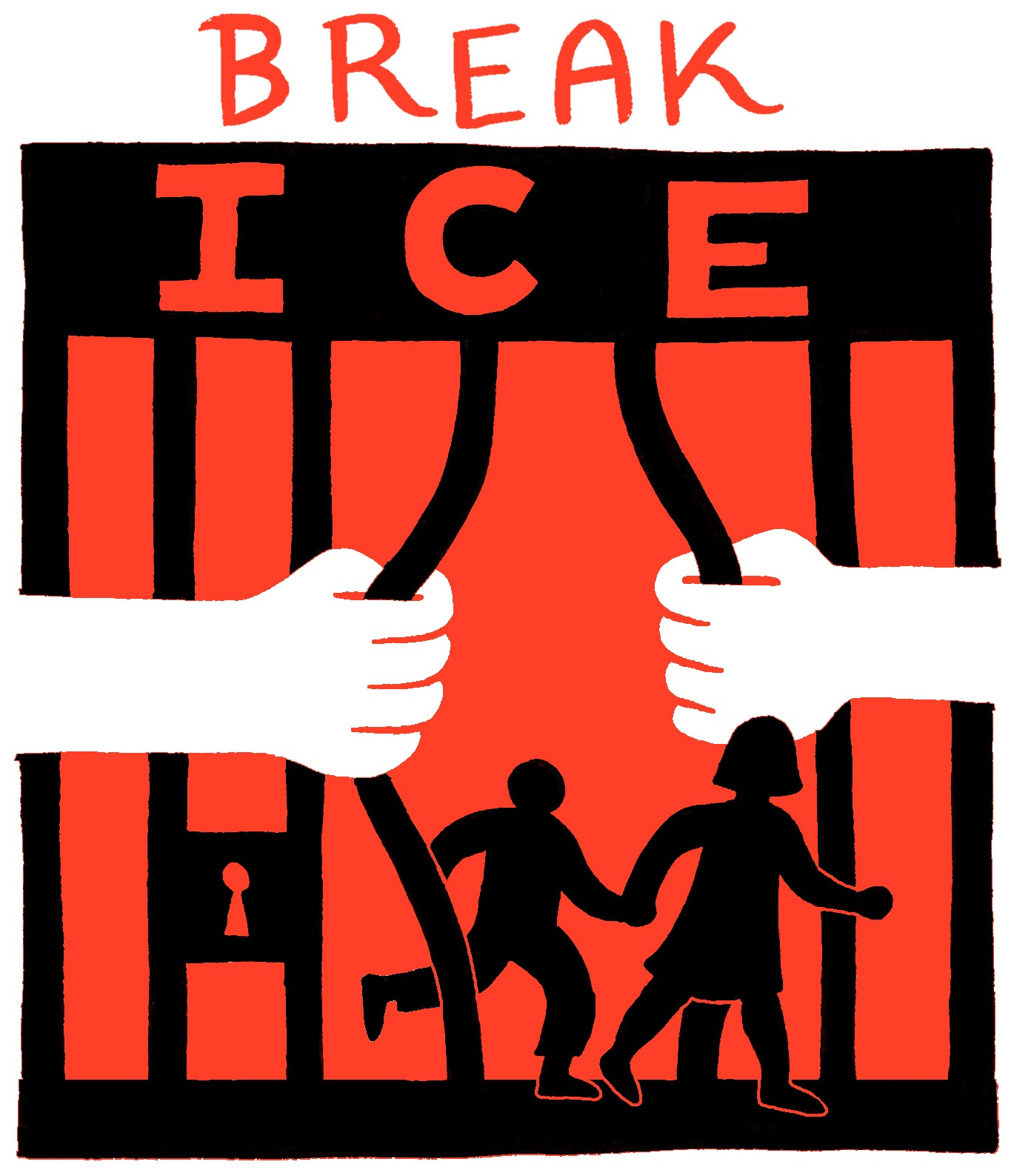 Activists with SftP NYC participated in the march to call for: an end to child detention, the reunification of migrant families, the abolition of ICE, and the legalization of all eleven million undocumented immigrants.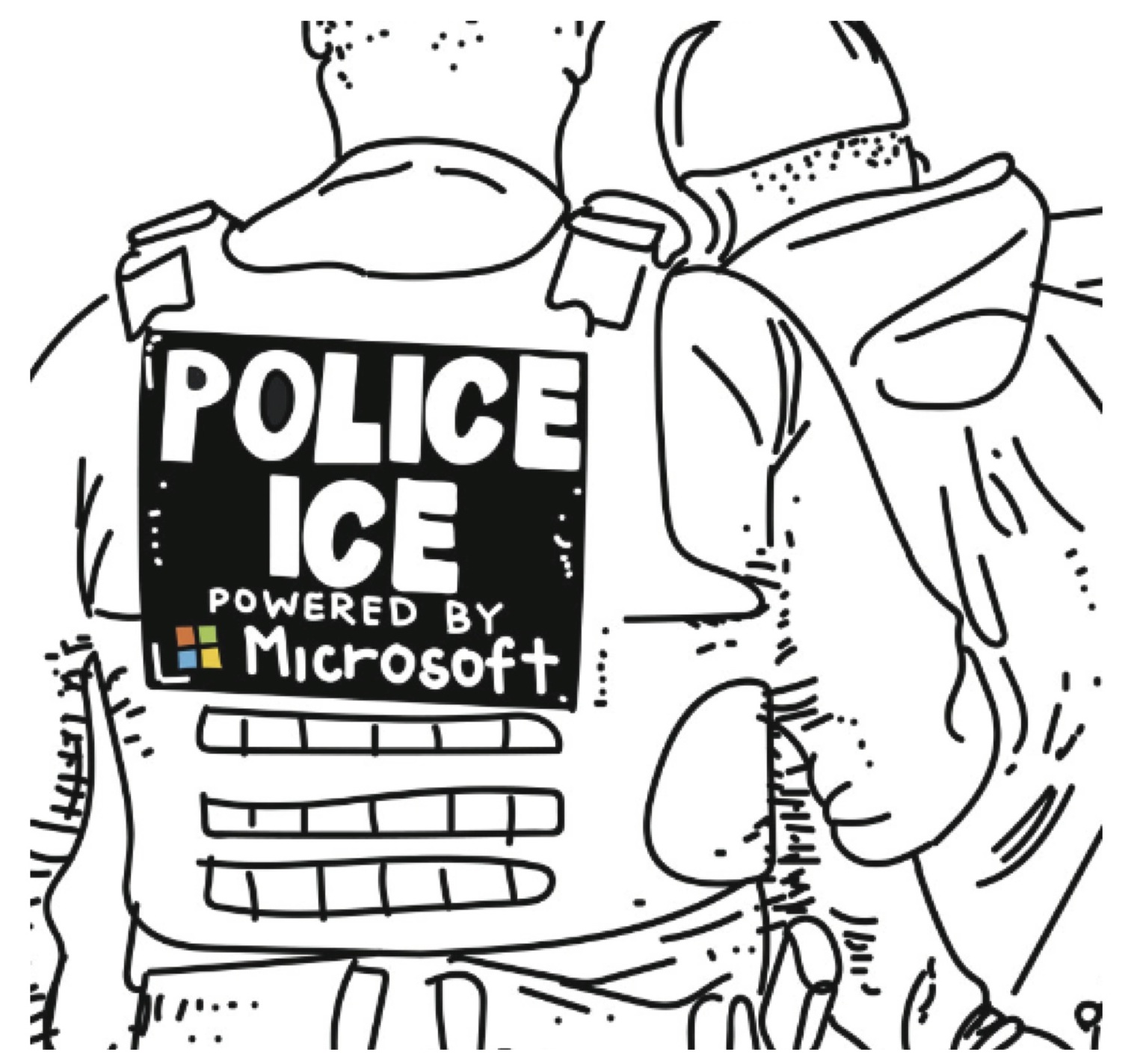 In addition, SftP NYC represented the concerns of tech workers seeking to implicate major industry players such as Microsoft for maintaining multi-million dollar contracts with ICE, with signs and slogans specifically demanding cancellation of the Azure contract. With the growing public discontent towards immigration enforcement agencies and their practices, this served as critical moment to engage the public with the role scientific and technological research plays in violent militaristic practices.
---

We Wont Be Complicit – Picket, March, & Civil Disobedience
To heed the call of Immigrant rights' group, Movimiento Cosecha, activists with SftP NYC channeled the momentum of the 'No Tech for Ice' campaign to build a coalition with various local grassroots activists groups and stage a picket, march, and civil disobedience action on July 31st, 2018. 
Joined by the International Socialist Organization (ISO), Rise and Resist, Desis Rising Up and Moving (DRUM), and Rude Mechanical Orchestra (RMO), SftP NYC and Movimiento Cosecha planned a march route targeting three major tech companies that collaborate with ICE: Microsoft, Salesforce, and Amazon. 
At each location, protesters picketed outside the flagship offices in midtown Manhattan during rush-hour crowds to draw public attention to each company's prerogative to place profit over people as demonstrated through:
Microsoft's $19.4 million contract with Immigration and Customs Enforcement 

Salesforce's software and technical provisions to Customs and Border Protection
Amazon's sale of Rekognition, a facial recognition technology, to Immigration and Customs Enforcement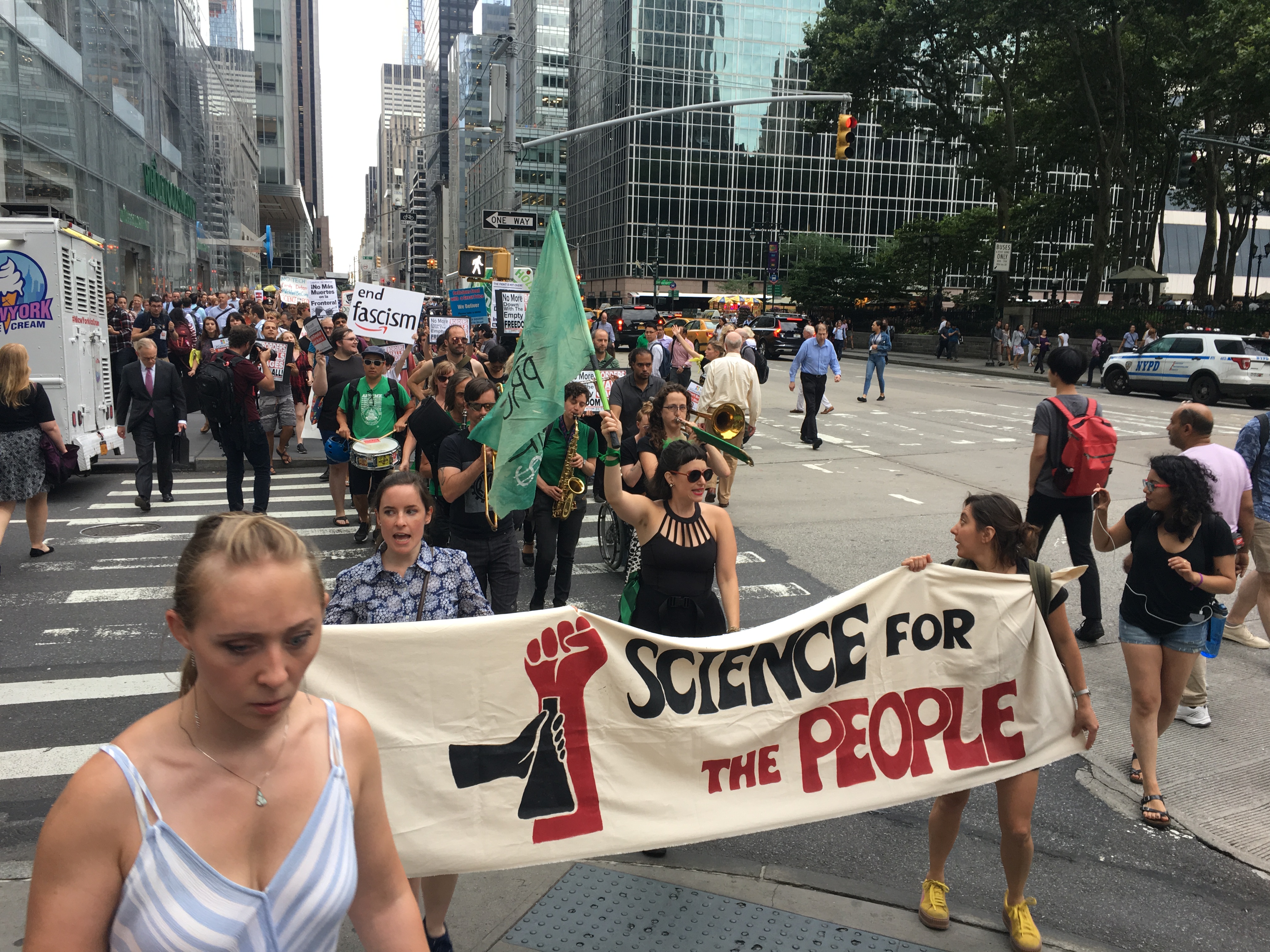 In solidarity with the tech workers who sought to hold their employers accountable, and in efforts to further project their message to the public, activists read the letters written and signed by the three company's employees during the demonstrations at each respective location. To access the the worker letters visit the following links: Microsoft Letter, Salesforce Letter, & Amazon Letter.
The action culminated at the Amazon store in the heart of New York city's midtown shopping centers at 34th street and 5th avenue where a team of activists disrupted business as usual by barring the entryway with their bodies, effectively shutting  down business operations to signify to companies like Amazon that their complicity will not be tolerated. If tech corporations refuse to meet their own employee's demands, dismiss the calls of the growing movement for immigrant rights, and ignore the egregious actions of the agencies they provide services to – activists will continue to organize and agitate under the slogan #NoBusinessWithICE.
This Action In The Media: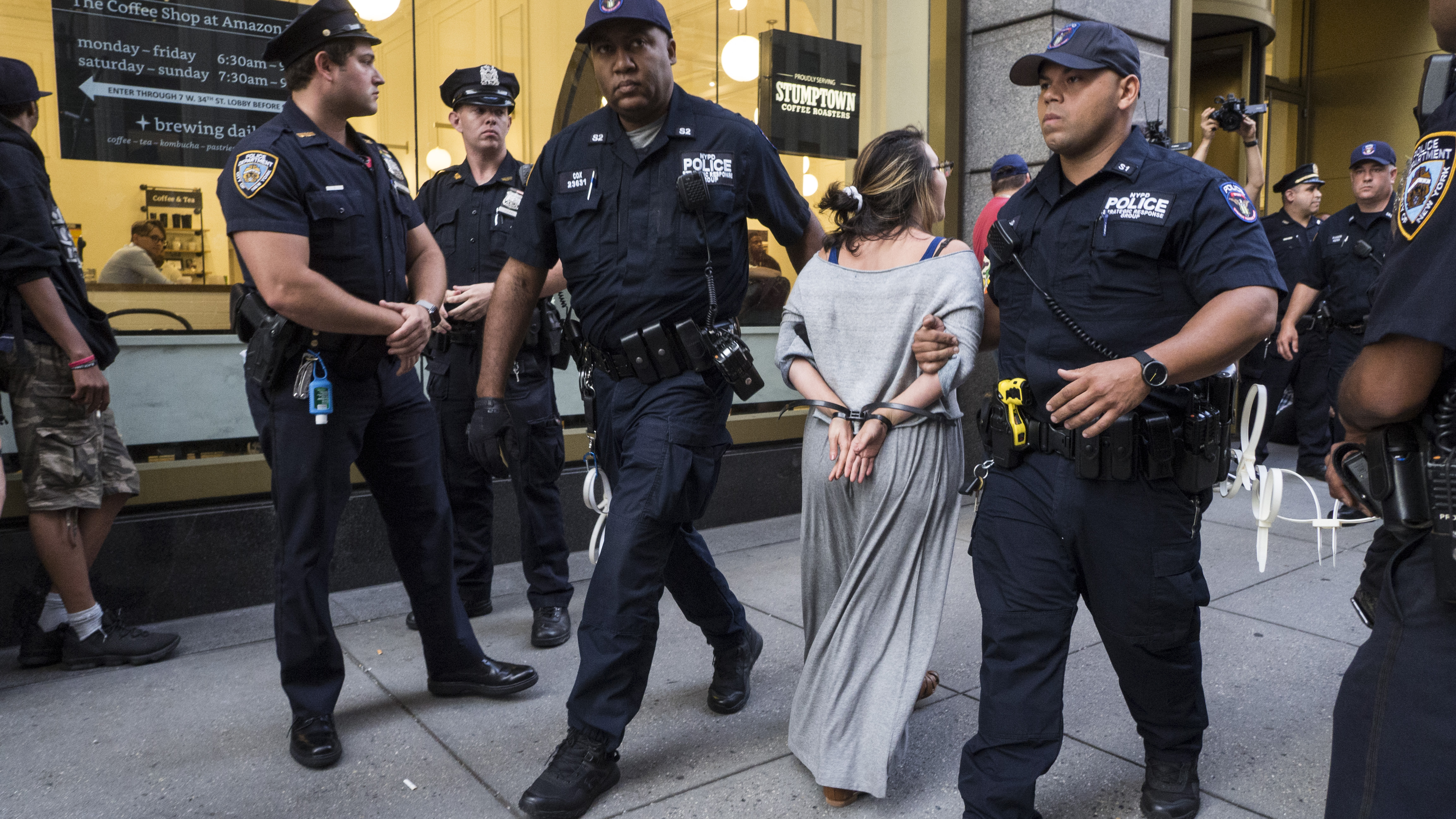 ---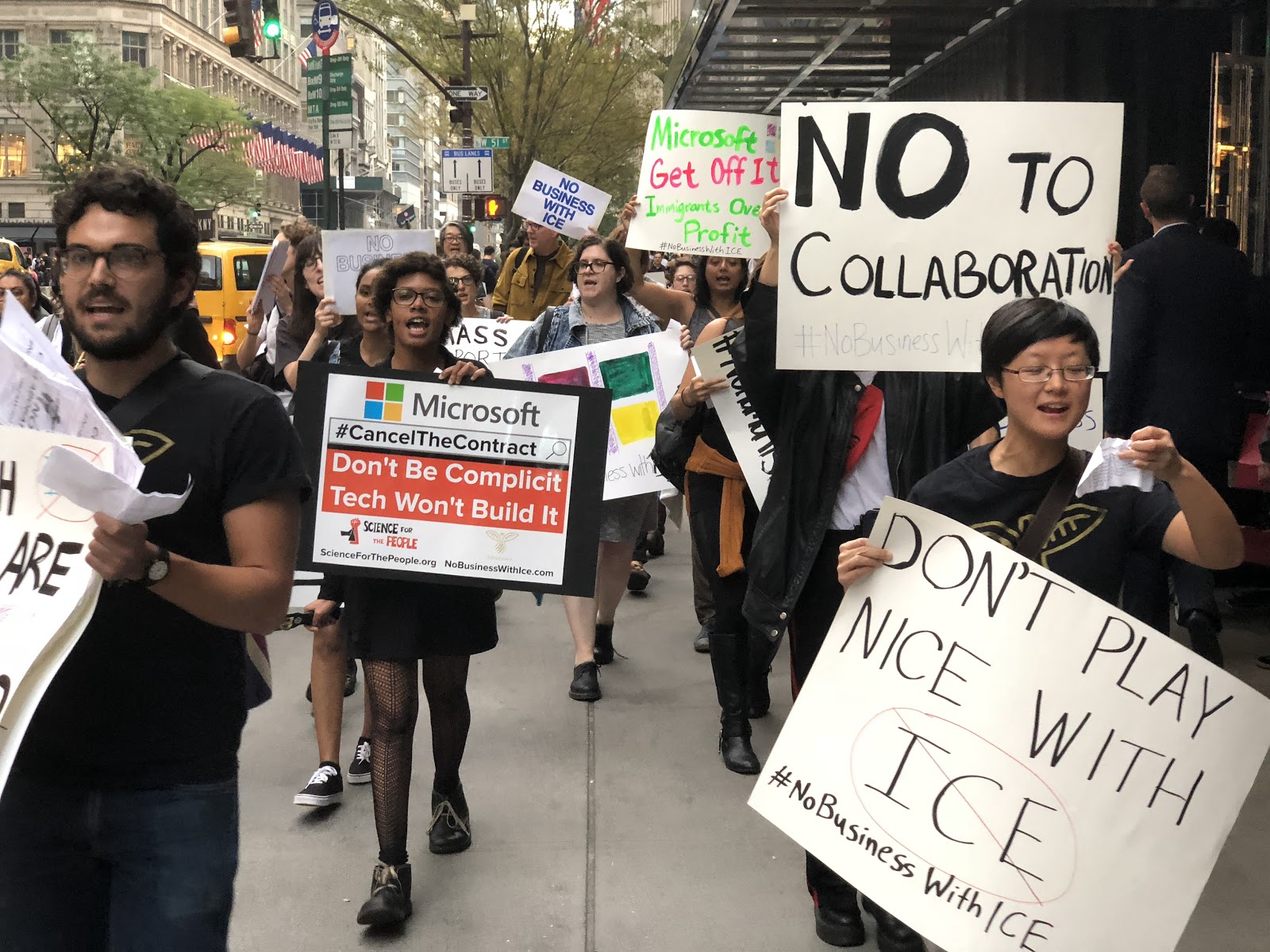 No Business With ICE – National Day of Action
In continuing the No Business With ICE campaign, on October 1st, 2018, activists with International Socialist Organization (ISO), Rise and Resist, and Science for the People NYC joined Movimiento Cosecha for their National Day of Action in New York City.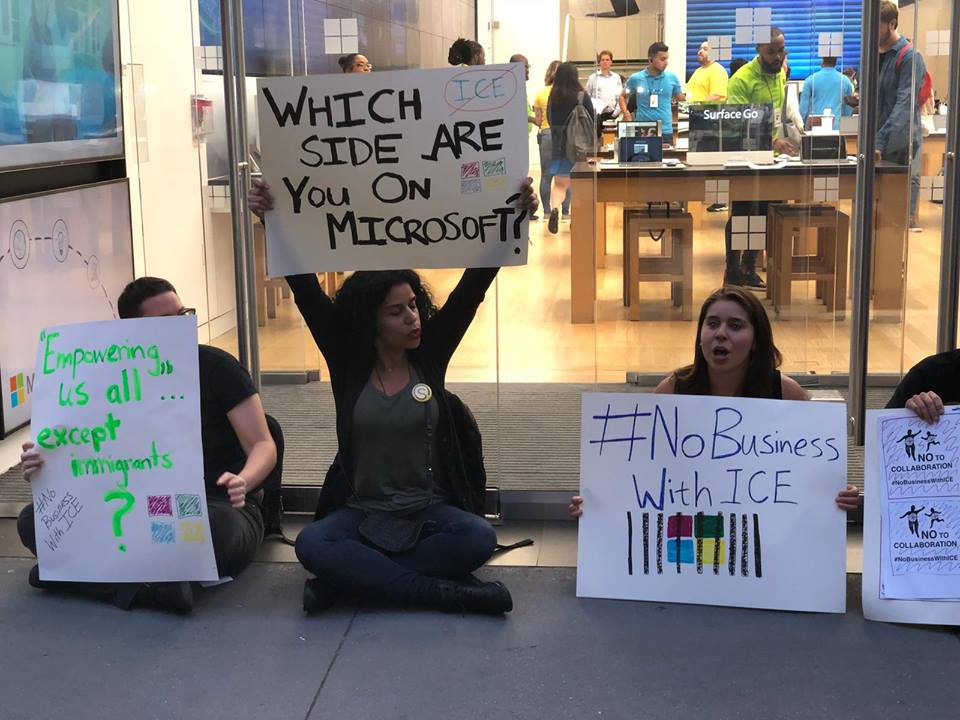 After gathering at the iconic rink of Rockefeller Center, the coalition marched through midtown during rush-hour to the same flagship Microsoft store that SftP NYC picketed a few months prior. As the protesters approached the store chanting "Microsoft get off it – Immigrants over profit!" an action team inside dropped a banner from the second floor balcony, incriminating Microsoft for holding a two-million dollar contract with ICE while over 12,800 children remain in detention centers and immigrants are terrorized by repressive governmental agencies.
Upon reaching their target, protesters dispersed into units: one forming a spirited picket outside the store to draw attention to the message brought fourth, while the other joined the action team inside to disrupt business-as-usual. After demonstrating inside, protesters assembled a visual blockade against the store's glass facade, replacing the view of Microsoft products illuminated on the street front with picket signs denouncing the position the tech company has taken in the face of copious human right's violations.