5 Years Lost: the Nonscience of NY Climate Politics since Sandy
On the eve of a climate action march, during the fifth year anniversary of the devastating Superstorm Sandy, SftP NYC hosted a panel at Verso books focused on New York climate politics, with an invitation extended to all individuals interested in the future of the city.
"Though global warming and its violent effects have already been set into motion, science and engineering can help stem the tide. But only if pursued in conjunction with a program to eradicate social inequality and political disenfranchisement."
The panel discussions were led by three SftP NYC chapter members: Earth Scientist Colleen Baublitz, Water Resources Engineer Christopher Dols, and City Planner and Mechanical Engineer Jamie Bemis. The panel also featured a representative from the Ramapough Lenape Nation, Owl, who provided perspective on the battles faced by those on the front lines resisting new oil infrastructure.
To learn more about the struggle of the Ramapough Lenape Nation, visit the Split Rock Sweetwater Prayer Camp Facebook page.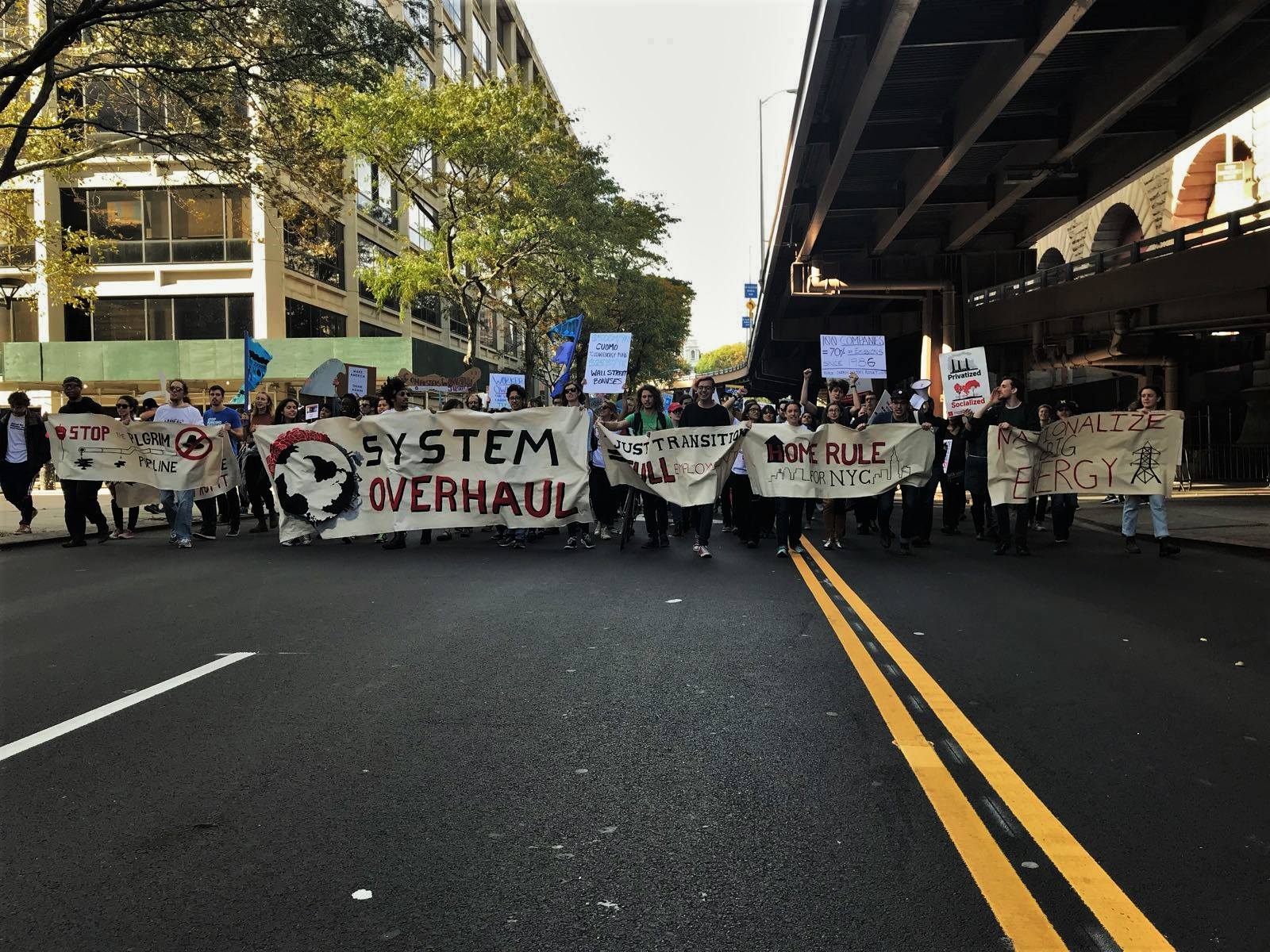 5 Years After Sandy: We Remember, We Resist, We Rise – Rally & March – System Overhaul Contingent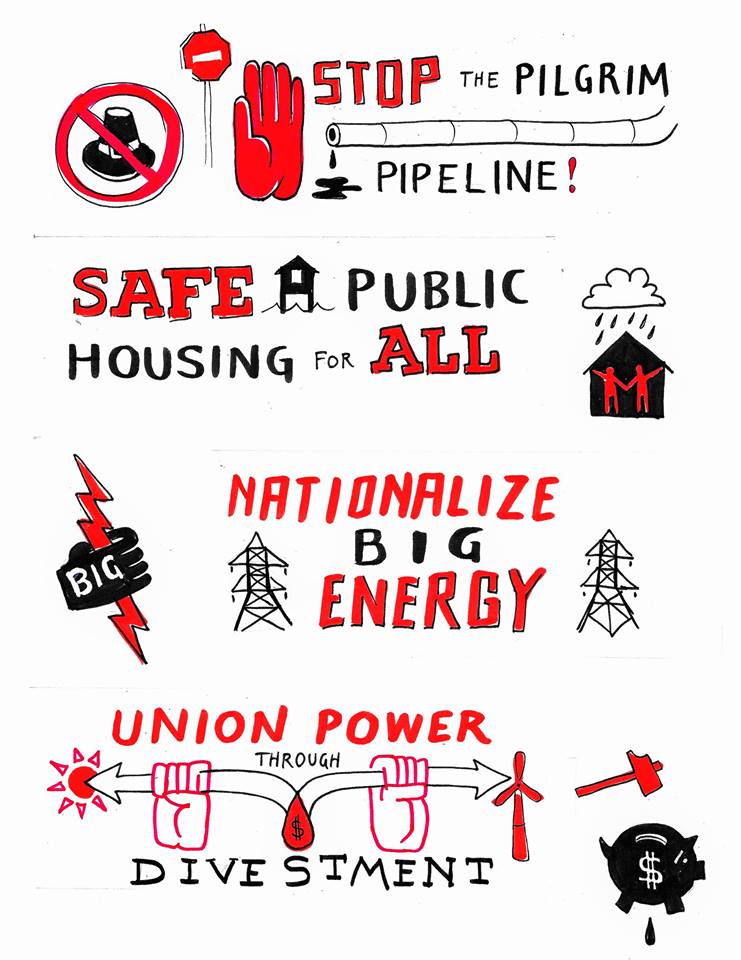 Five years after Superstorm Sandy battered coastal communities in New York and New Jersey, killing several dozen and displacing tens of thousands – a coalition of climate and environmental justice organizations ignited a local direct action mobilization effort known as Sandy 5.
Activists with SftP NYC, International Socialist Organization (ISO), and Democratic Socialists of America (DSA) participated in the effort, together forming the System Overhaul contingent.
Since in five years time neither the carbon emissions admonished by climate science nor the vast inequality proscribed by the political left showed signs of abatement. System Overhaul resolved:
"In order to make any real progress we will need to go after the city/national elite and their financial, developer and energy interests, because ultimately the mainstream piecemeal approach to tackling climate change has proven empirically non-viable."
On the morning of October 28th, 2017, activists, organizers, and fed-up community members met at Cadman Plaza Park in Brooklyn and marched over the Brooklyn Bridge, culminating in a rally at the Smith NYCHA Houses in lower Manhattan, which were heavily affected by Hurricane Sandy.
Rise for Climate, Jobs, & Justice – Rally & March
On September 6th, SftP NYC joined thousands of activists, organizers, and community members in the streets of the Financial District to implore politicians and CEOs to stop letting profits get in the way of taking action for climate. This event was part of a national mobilization effort leading up to the Global Climate Action Summit.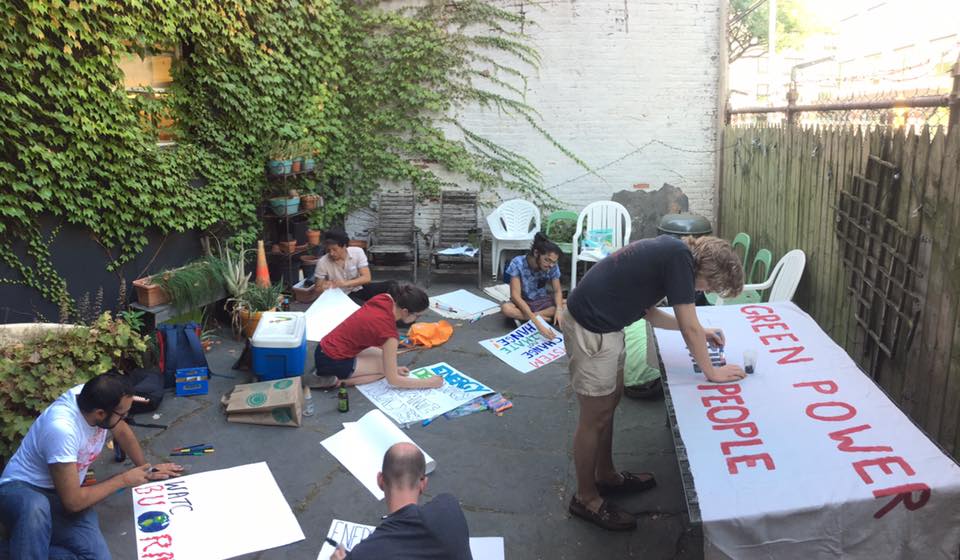 The weekend before the march, organizers with SftP NYC collaborated with activists from the NYC chapters of International Socialist Organization (ISO) and Democratic Socialists of America (DSA) to make banners in preparation for the march, establishing the formulation of a contingent that was well equipped to critique the role capitalism plays in the escalating climate crisis.